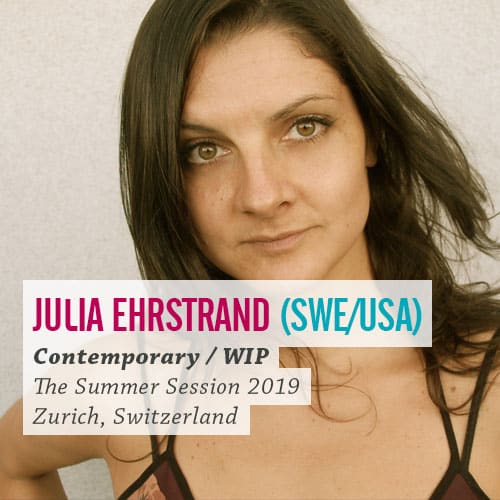 Stundenplan
Contemporary
So. 28.7. 14.00 – 15.30 Uhr
Mo. 29.7. 12.30 – 14.00 Uhr
Di. 30.7. 12.30 – 14.00 Uhr
Mi. 31.7. 12.30 – 14.00 Uhr
Work in Progress
Mo. 29.7. 10.00 – 12.00 Uhr
Di. 30.7. 10.00 – 12.00 Uhr
Mi. 31.7. 10.00 – 12.00 Uhr
Facts
Julia graduated with a Bachelors Degree in dance/teaching from DOCH/University of Circus and Dance (Stockholm), She has also studied at Institut del Teatro (Barcelona) and graduated from the ISVP program at DNA in 2009
Since coming to New York in 2007, she has danced for TNSP, Jana Hicks/Marijke Eliasberg, Max Stone/SexyBeastNYC, Lane Co Arts , Carrasco dance company and Collective Noir, among others.
Her choreography has been presented in various stages in NYC, Europe and Asia.
She has taught at The Juilliard School in New York, The Royal Swedish Ballet School in Stockholm, DOCH University of Dance and Circus (Stockholm), Company Classes for The LIMON COMPANY NYC,Balettakademien (Stockholm), Daily Professional Classes for Danscentrum (Stockholm), Amsterdam School of the Arts (Amsterdam), UiS/ University in Stavanger and at PRODA (Norway), the Joffrey Ballet Summer Intensive, Ballet Hispanico, Peridance Capezio Center, Gina Gibney Dance, DNA, Steps on Broadway and SUNY Purchase among others. Julia has also been dancing/choreographing/teaching in China, Taiwan, Uganda and Ethiopia.
Kurzbeschrieb
Julia teaches a contemporary class, a fusion of different styles. Her focus is to find an organic way of moving and at the same time challenge your technique and find your maximum range of movement. Very fluent, challenging and physical movement style.