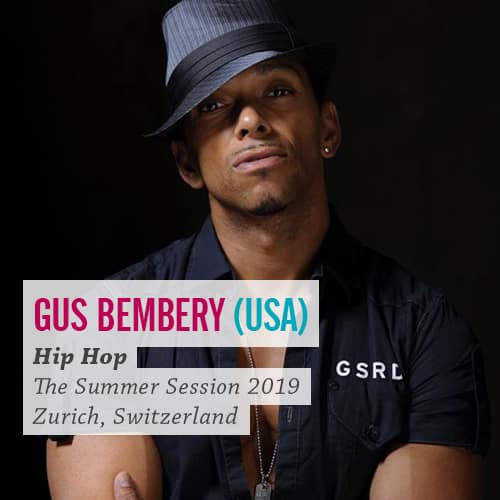 Stundenplan
Hip Hop
Mi. 17.7. 18.45 – 20.15 Uhr
Do. 18.7. 18.45 – 20.15 Uhr
Di. 23.7. 18.45 – 20.15 Uhr
Facts
My biggest success is that I get to travel the world, cultivate friendships and then dance with the people I love.
Kurzbeschrieb
I've been teaching in L.A. and around the world for more than 20 years. I began teaching at The Edge in Hollywood when I first arrived in California in 1993 (from Boston, where I was the first hip hop teacher ever!), and then moved on to teach in the other major studios in L.A. like: Millenium, and Debbie Reynolds.  My name spread and soon people were traveling overseas to take my Hip Hop dance classes.  My first invitation abroad was to Italy, and then to Japan, and soon I was flying around the world, teaching at all the major cities on the planet.
New York:  Broadway Dance Center
Tokyo:  BDC
London:  Pineapple
Paris:  Studio Harmonic, Juste Debout
Rome:  Ials
I've taught in every country in Europe and Scandinavia.  Also, Russia, Turkey, Israel, South Africa, Australia, Brazil, Japan all over Canada and the United States.
I performed with Shakira at the Grammy Awards,  and danced with some of the best dancers/teachers/performers/ choreographers such as: Jamie King, Tabitha and Napolean, Sean Evaristo, The Jabbawockeez and many more.
But sharing my love for hip hop by teaching dance classes is my true passion. My class is all about power, becoming one with the music and telling a story through hip hop dance. The music I choose are the songs that inspire me to use my imagination and to dance to my fullest. At the end of class we should all be a sweaty wreck, having just danced for our LIVES. – Gus Bembery