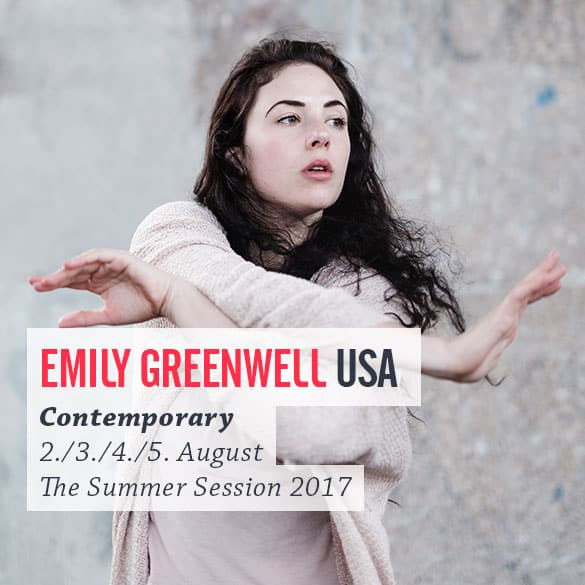 Stundenplan
Contemporary
Mi. 2.8. 14.00 – 15.30 Uhr
Do. 3.8. 12.00 – 13.30 Uhr
Fr. 4.8. 14.00 – 15.30 Uhr
Sa. 5.8. 17.00 – 18.30 Uhr
Facts
Emily Greenwell was raised in Michigan and has been residing and working professionally in NYC for the past 7 years. Emily is a choreographer, teacher, and performer; she is currently on full time teaching faculty at both the Broadway Dance Center and the PeriDance Capezio Center, as well as dancing professionally and creating work in her own right.
Directly following her move to New York, Emily booked the tour of Oz the Musical, directed by Todrick Hall. Since then, she has been seen on TV and video, as well as both theatre and concert stages. Some examples being working as a featured dancer on the Wendy Williams TV Promo, choreographed by Luam and Derek Mitchell, and dancing for rock group Phish, choreographed by Jon Rua. Emily spent a portion of the earlier part of her career working as an assistant to Derek Mitchell on projects such as So You Think You Can Dance Ukraine and the Brooklynettes, as well as Broadway Bares: United Strips of America, directed by Nick Kenkel. This past summer, Emily performed at the famed Muny Theater in the production of Aida, choreographed by Jon Rua. Additionally she was recently featured in recording artist Marian Hill's "I Want You" music video, choreographed by Ian Eastwood.
Emily has presented her own work on major NYC stages at events such as Carnival, Sybarite, and The Young Choreographer's Festival. In the summer of 2015, she was selected as Featured Choreographer for The Pulse On Tour in New York City. This year, Emily presented work as a finalist at the Capezio A.C.E Awards for Choreographic Excellence. Most recently, she was a contestant on season 2 of choreography competition show "Every Single Step," produced by Nigel Lithgoe.
Emily has been given opportunities to share her talent with dancers all over the world, traveling to Argentina as well as countless studios across the U.S. setting choreography, teaching workshops, and hosting master classes.
The accumulation of Emily's work as an assistant and a performer has led her to discover her own unique, creative voice, and develop a genuine passion for choreography. She aims to share this with each student that steps into her class.
Kurzbeschrieb
In my classes I work with the students to find versatility in how we approach learning and performing movement. We work intensely on musicality, and letting the music inform the movement. We also work to find organic quality in our dancing, this will include listening to our bodies to dance from the inside out. My style is an accumlation of the many languages of dance I have spent time with.