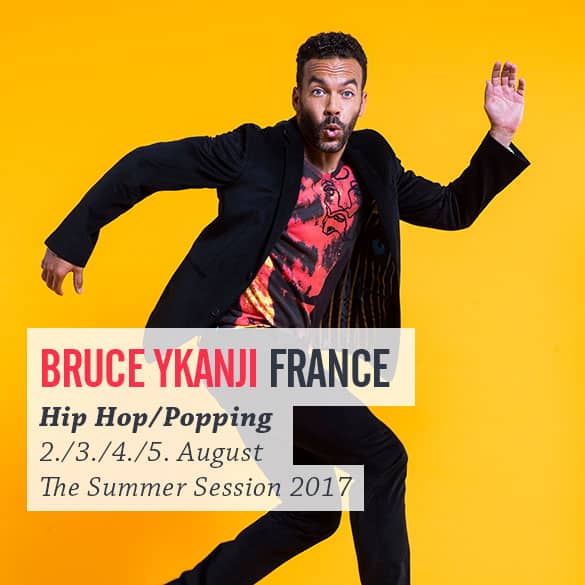 Stundenplan
Hip Hop
Mi. 2.8. 20.30 – 22.00 Uhr
Fr. 4.8. 18.45 – 20.15 Uhr
Sa. 5.8. 15.15 – 16.45 Uhr
Popping
Do. 3.8. 18.45 – 20.15 Uhr
Facts
Juste Debout Event / Juste Debout School
Kurzbeschrieb
Dancer, teacher and entrepreneur, Bruce Ykanji Sone has been striving in the dancing and entertainment world for the past 20 years. Creative and original, he specializes in popping, a groovy and unique dancing style in which he is acclaimed by his peers for his mastery of waves and skids.
His passion for dancing started when he was 8 years old. His talent allowed him to join MC Solaar dancing crew in 1997. This experience launches his career and sees offers pouring in and lining up. In 2002, he creates the « Juste Debout » event, an international "standing" Hip Hop dance competition, boasting a 45000 viewership worldwide. Concurrently, he keeps on pursuing his artistic career internationally, by participating in different dance camps and events as judge and teacher.
In 2009, he co-founds the Juste Debout School which main goal is to teach and bring "standing" hip hop dances to the masses. The school offers a graduate program for those wishing to become professionals. Originally set in Montreuil, the JDS is now located in Paris 20th district.
In 2014, Bruce creates the B&B Dance Agency with Bernard Lebeau, Choreographer and coach to renowned singers and actors. In this capacity, he is in charge of promoting talented dancers coming from different backgrounds.
As an emblematic Hip Hop figure, Bruce remains passionate about the art of dancing and motion. Enthusiastic, dedicated while also demanding, Bruce mentors by sharing his vision and his love for the craft all over the world, through his events and other choreographic projects.
My class is a wise mixture of Hip hop and popping. I named it Hip Pop with my friend Sebastien Boucher. It starts with a dance warm up including strong popping basics. – Bruce